Yakult x National Science Week 2021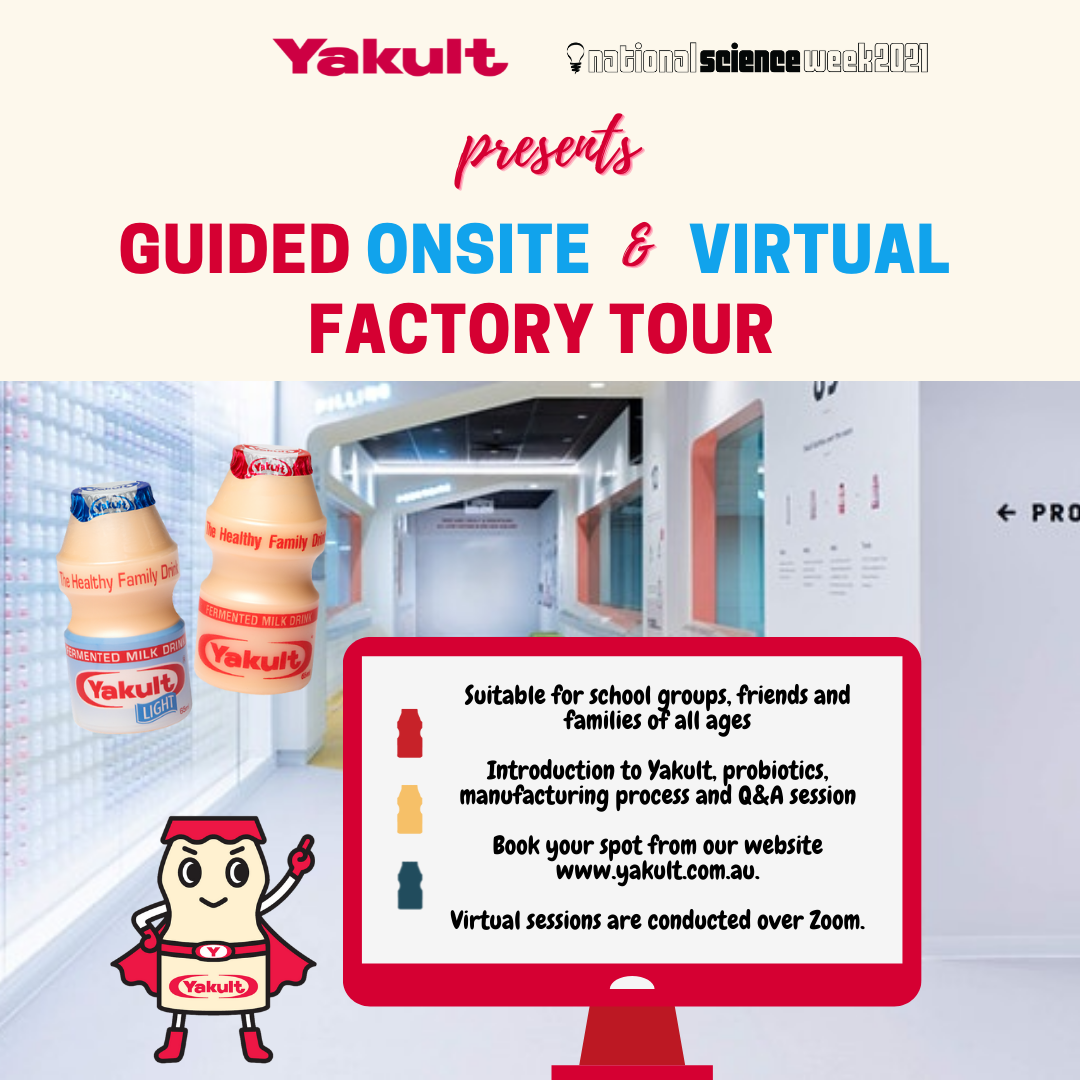 In conjunction with National Science Week, running from 14th to the 22nd of August, Yakult Australia is offering some educational programs during the month of August to celebrate the theme Food: Different by Design.
Yakult Onsite Factory Tour (School Groups only) – Science
These sessions focus on Science and Lab Skills. Students will be able to experience hands-on practical tasks such as using the microscope, bacteria plate counting, taste evaluation and other quality control tests.
This program can be tailored to suit different year levels, from primary to secondary schools. Sessions are run:
On Monday, Tuesday, Wednesday and Friday
For approximately 90 minutes during school hours
With a maximum of 20 students per session
Bookings are essential and subject to availability. Please contact education@yakult.com.au to book your session or if you have any questions.
Yakult Factory Guided Virtual Tour
Unable to join our factory in person? We also offer live, guided virtual tours every Tuesday at 4pm – 4.45pm, and Thursday 10am – 10.45am on Zoom. These tours are suitable for friends and families of all age groups.
During the virtual tour, we will introduce to Yakult, its history, and its benefits. We explain the manufacturing process of making Yakult while you get to look at the tanks and production lines where this all happens. Our guide will also be able to answer any Yakult-related questions during the session.
Book your session today here! If you have any question regarding this virtual tour, please feel free to contact us via 1800 640 023 (Australia) or 0800 925 858 (New Zealand).
If you wish to book for a private session for your school group, please contact education@yakult.com.au to arrange a suitable time and availability.